Safety Can be Found in a Community Wide Response
and we are thankful for that.
I'm surrounded by schools. My street is almost a half mile long and on the south end there is an elementary School and on the north end an elementary school and a middle school. No matter which direction I go when I leave for work in the morning, I inevitably get stopped by crossing guards. I can't help but smile as I watch the little ones, their backpacks too big for their bodies, happily run away from their moms and dads towards their school. I love watching the elderly volunteers, in their neon sashes holding oversized stop signs, help guide the "official" school crossing guards, aka the "big kids" in the building, on how to usher everyone safely across the street. I stop, I watch them, I wave, and I am thankful for their service to my community.
Cliff works in operations here at Status Solutions. He helps keep customers and sales people happy. He often talks about the people behind the scenes in a society that keep things running, and let's be honest there's so many of them we don't even know who we're forgetting to appreciate. They're the ones who, when doing their job correctly, are almost invisible, but you know they're hard at work because society keeps functioning in a proper manner. They're like that invisible O-line we've talked about before.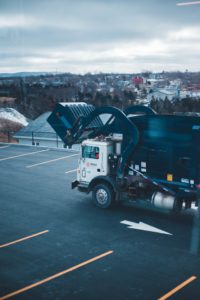 In our building Seiji is one of those behind the scenes guys. He keeps all our technology running smoothly so we can do what we do and help others. He agrees with Cliff about the unsung heroes of a community. He's thankful for waste collection and the hard working men and women who provide that service. If you've ever forgotten to put your trash out or worse experienced a delay in collection, you know how quickly that can create chaos as things begin to pile up. Yet how often do we stop to thank our trash collectors in the community?
Teresa works in sales. She helps bring our situational awareness platforms to the people who need it, and then she helps make sure they're getting the most out of all it can do. She's grateful for the people who don't work 9-5 jobs, the police, firemen, and military who sacrifice time with their loved ones so that they can keep a watchful eye over their fellow citizens.
Faye is our project manager. She gets things done! She's grateful for teachers, and specifically special education teachers like her daughter, who so lovingly work with children with varying disabilities to make sure they have a safe learning environment where they can flourish.
Jared is another behind the scenes guy here at Status Solutions. He helps keep the sales department running smoothly. He's able to do that with his trusty cup of coffee. He's grateful for baristas who make that complicated order correctly. And while on the surface we may both agree and laugh at Jared's attitude of gratitude for caffeine, we all know that the clerks behind the counters, much like the teachers in the classroom, and the waste collectors on their routes, are the eyes and ears of a community.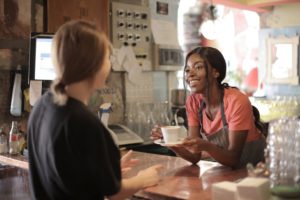 Last year a story made the news about a watchful Starbucks clerk who wrote a message on a cup of hot chocolate to a girl whose safety she was concerned about. Fortunately the young girl was ok, but it's that kind of situational awareness that can save lives. Much like this story of a garbage collector in Brazil who saved a young boy's life by grabbing him seconds before he was hit by a car. It takes an entire community to protect one another from evil actors or just heartbreaking accidents. Some people are obvious heroes in a community like teachers, police, paramedics, firemen, doctors, and nurses. Others are silent, watchful individuals who spring into action when they see a fellow citizen in need of help. 
At Status Solutions we pride ourselves on our role in the communities we serve. Over twenty years ago we were born out of a desire to protect schools and on the belief that technology can prevent tragedy. But we also know that safety goes beyond the four walls of a schoolhouse and our technology has evolved with that knowledge. Safety in any public place is a community wide concern. The second deadliest mass shooting this year occurred in a supermarket in Buffalo, NY. Heartbreakingly it was only 10 days following the devastating Uvalde school shooting in Texas. If our schools and our grocery stores aren't safe, then what can we do? The only plus of a community-wide concern is that it can elicit a community-wide response. 
One example of such a response was in Blount County School District, located just one county over from the recent Knoxville, Tennessee school shooting, they recently implemented situational awareness solutions to better equip them to respond to an active shooter emergency. As their situational awareness partner, Status Solutions was able to integrate all safety and security technology into one platform and enhance their mobile duress technologies throughout the school buildings. Specific school staff members were provided mobile duress buttons to be utilized in the event of an emergency. When one of the buttons is triggered, an alert is immediately sent out to the proper personnel and/or first responders with critical information. This ensures quick and correct action will be taken to manage any situation.The school believes this proactive approach will ultimately save lives in the case of an emergency.
Inspired by the school district's increased situational awareness, the Blount County Government has now taken a holistic approach to their safety plans as well and implemented SARA, a situational awareness and alerting solution to provide enhanced mobile duress throughout their buildings, including their probation office, recovery court office, mall location, schools, and more. With the Eyes of SARA, responders can properly assess the situation using cameras, live-video feeds and triggered alarms to make informed decisions before they're even on the scene. 
Our CEO and founder, Mike MacLeod, likes to say that, "Situational Awareness is an outcome not a technology." Mike knows that with the proper tools communities can find peace of mind knowing they have a proactive understanding of threats, and the power to take action addressing them as they arise. He also knows that the outcome takes Status Solutions' technology lifting up the passion of a whole community. It's all those people that Cliff, Seiji, Teresa, and Faye are grateful for. These everyday people keep the wheels turning in society and are constantly on the lookout for their neighbor simply because it's the right thing to do. The crossing guards, the teachers, the police, the refuse collectors, and even the often forgotten baristas are the reason we do what we do. Because everyone deserves to live in a safe environment and because every community should find comfort in the safety of their schools.
This Thanksgiving, we at Status Solutions are thankful for the like-minded communities that have partnered with us to help make this world a better place and we're thankful for you.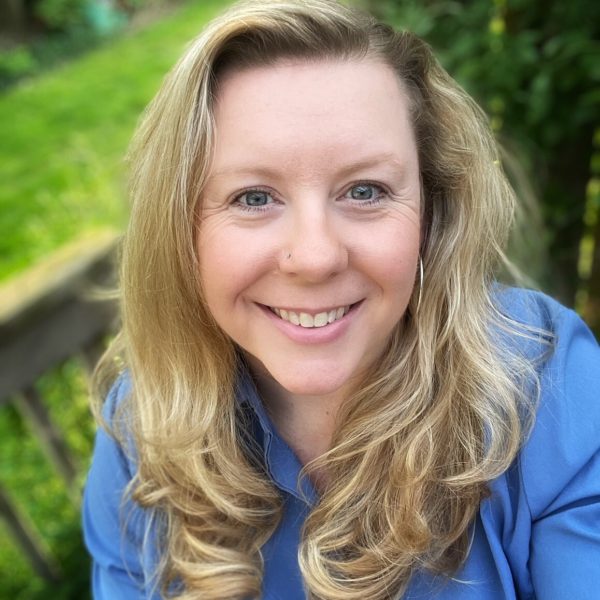 Laura Hartman is a former English teacher. Currently she is a Marketing Specialist for Status Solutions in Westerville, Ohio,  where she calls upon her years of experience in the classroom to aid the company's mission of protecting the vulnerable and preventing violence in schools.