Mall of America® Doubles Down on Mass Notification and Integrated Systems
Opportunity
As a world-class destination that spans over 5.6 million square feet, Mall of America® sought a way to make its lockdown procedure more efficient. Nick Evert, Security Dispatch & Special Projects Manager for Mall of America® stated, "None of our systems were tied together. In the event of an emergency, we need to communicate through multiple channels including phone calls, PA announcements, emails, and texts. However, it was time-consuming and involved multiple people triggering all these systems through individual transcribing." 

Solution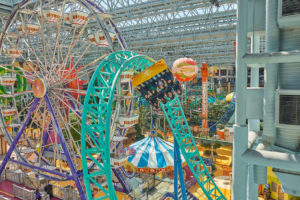 Mall of America® worked with Status Solutions to integrate its disparate systems into one cohesive and efficient solution. Nick Evert declared, "This system did exactly what we needed it to do. During our most recent emergency, with the press of a button, we were able to quickly and effectively communicate that we were in lockdown to all guests, tenants, and team members. We did have a few key learnings from this situation, but we were able to sit down with Status Solutions to make a few tweaks and enhancements for our unique venue." Mall of America® knew they wanted to make their mass notification platform even broader. They worked with the Status Solutions team to incorporate numerous digital signs throughout the mall and parking garages so that they could become mass notification tools simultaneously with one triggering event. Evert stated, "It was a heavy lift, but the Status Solutions team figured it out. The technology is intuitive and reliable, which plays a critical role in our overall security strategy to keep everyone who walks through our Mall doors safe." 
With Status Solutions' flagship technology, SARA, Mall of America® now has a color-coded dashboard that allows their security to manage any event. Drills are differentiated from real emergencies by color-coded buttons. Specific types of emergencies and triggering reactions are also broken down by colors. Using the colors as a guide, with the push of a button the authorities and/or the public can be notified about any type of specific incident, or even if there is a need to evacuate or lockdown. No matter the case, Mall of America® is prepared. 
"It's been an incredible partnership and I'm grateful we have Status Solutions to call whenever we need assistance or want to expand our situational awareness," Evert said. 
Results
Integrated alerting and mass notification system

Integration of PA announcements and Digital Signage throughout the Mall and exterior areas including parking garages

Color-Coded Dashboard that allows for instant mass triggering as well as practice drills

Automation of specific door locks in identified areas through the SARA dashboard

A continually customizable SARA interface as the needs of the Mall of America grow and evolve
About Mall of America
At 5.6 million square feet, Mall of America® is the largest shopping and entertainment complex in North America with more than 520 world-class retail stores and restaurants; Nickelodeon Universe, a 7-acre indoor theme park; SEA LIFE Minnesota Aquarium; FlyOver America; Crayola Experience and more. The Mall opened in 1992 and is located in Bloomington, Minn., minutes from downtown Minneapolis and St. Paul and adjacent to the MSP International Airport. Follow Mall of America® on Facebook, Twitter, and Instagram. Download the Mall of America® app from the App Store for iOS or Google Play for Android.